Check how Pro Robots work in 15 minutes
Let them work from tomorrow and earn money for you.
Your results are not satisfactory? Are you still looking for new ideas? Do you feel impatient and irritated? Your dissatisfaction and loneliness may occur due to the fact that you walk the same paths every day. When you think about a money making machine, and Robot Pro is a money making machine, you will feel like you are changing from worker to manager. When you use it, you will feel the relief of having more free time and controlling the market without negative emotions. Your profits will be the consequence of implementing a proven plan. An explorer and innovator will awaken in you. You may even feel like a modern financial shark.
What is Robot Pro and how is it different from an ordinary robot?
PRO robots are unique algorithms that you can create without any programming knowledge in order to perform automatic transactions. Running the algorithm in the cloud enables the automatic execution of orders. A short, 15-minute consultation is more than enough to start building what you imagined. Thereby, you will be able to check and test many of your ideas in a short time. You will create your machine with functions and strategies the way you are used to using indicators. Imagine how happy you will be when your Robot Pro starts earning money from what you have come up with. Unlike a regular Robot, a ready-made one, Robot Pro solution is one created by yourself. You can use the help of consultants in achieving your dreams.
Four things you should take care of before turning on the Robots Pro
Choose the profit / security ratio
Set a budget and stay within it
Establish an action plan, develop an algorithm
Start acting
The unique mechanism of building algorithms from ready-made indicators and running robots in the computing cloud makes it possible to control robots from any device.
What else is worth knowing about robots PRO and algorithmic trading?
Zobacz jak skonfigurować i uruchomić w chmurze swoją strategię automatyczną. Będziesz mógł ją kontrolować z dowolnego komputera, telefonu i tabletu.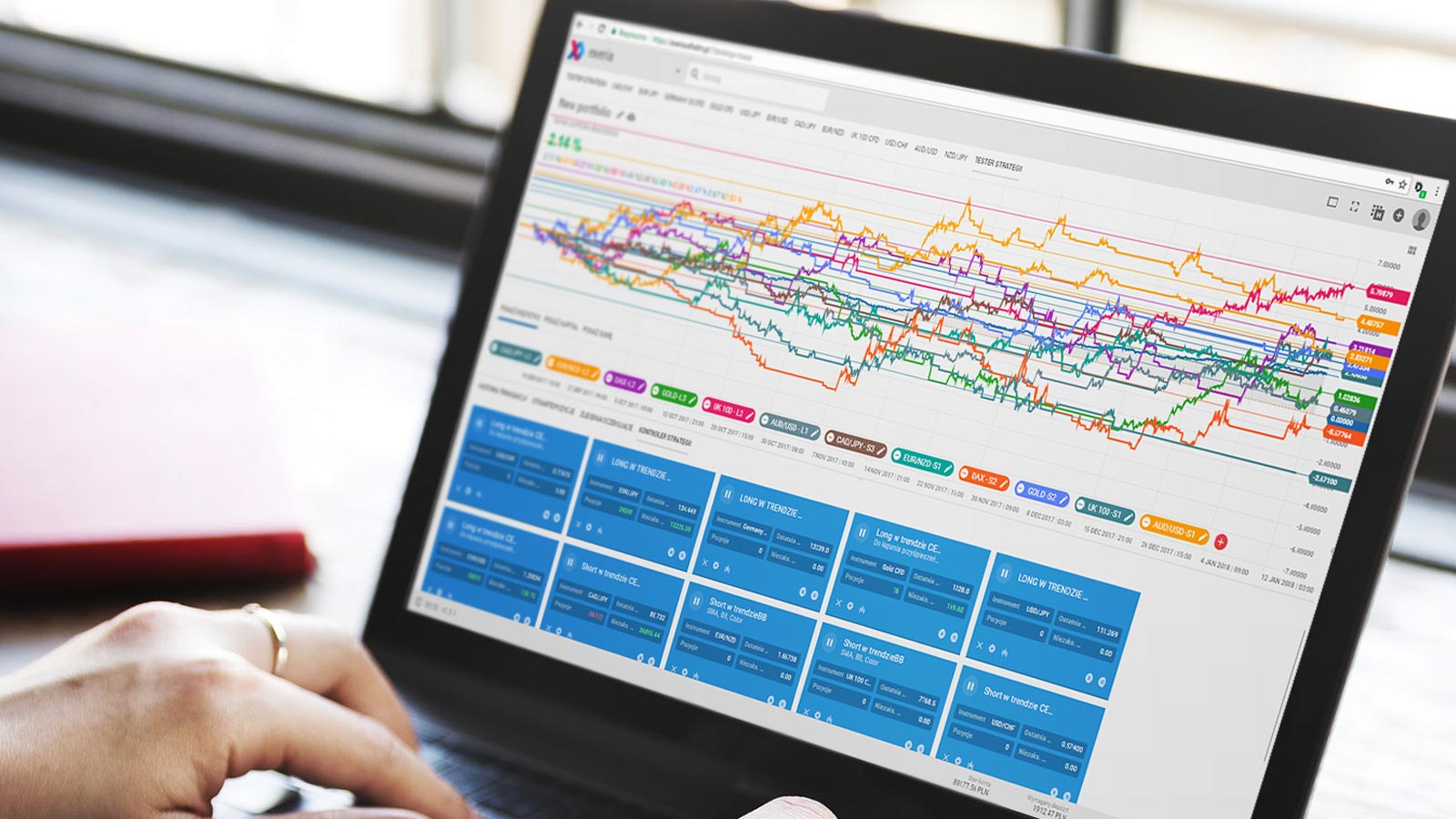 Why might you have the feeling that Robot Pro would be a profitable solution for you?
You will be happy when your Robot Pro starts earning money. Thanks to your knowledge, you will be able to create automatic machines – complex devices without any knowledge of programming.

You will be able to assess what to expect, test and check the assumptions and logic of the algorithm and the plan for the Robot on an ongoing basis before using it.

You will be able to implement your own ideas, both independently and with the help of a consultant, create strategies and improve them.

We will provide you with constant access to Robot Pro from anywhere. So you will be able to react immediately to what is happening on the market.

Thanks to the possibility of using and running several Pro Robots at the same time, we will provide you with security in the form of portfolio diversification and the resulting advantages of applying several complementary strategies simultaneously.

Thanks to the unique testing and checking capabilities, the robot analyses global markets continuously and automatically. When the situation you are looking for on the market happens, you get an immediate signal, so you keep your finger on the pulse and have control over what is happening around you.
TOP 4 most important benefits for you:
You create Robot Pro yourself, based on your investing knowledge

You can still use Robots and Algorithms – ready-made solutions prepared by experts

You can sleep and work in peace. Robot Pro works quickly, efficiently at the right times, using opportunities 24 hours a day. It would be very difficult for people to act so systematically and with such precision.

You earn money for the operation of the vending machine, which gives you more free time, independence and money
Do you need consultation and technical support?