Complete Frontend building competing advantage
Ready-made trading platform
Instead of wasting two years for building your own trading platform get daily technological advantage for 70 $ only. Furthermore, get new clients faster and start taking the leader position now.
Frontend Exeria is a modern, aesthetic and ready-made software that allows standing out in the market and realizes a unique development strategy.
Frontend has an application in the financial industry and is also used by financial brokers, banks and brokers of Forex and Crypto markets.
Main users:
Brokerage houses
Banks
Stocks and Crypto platforms
Brokers of the FOREX market
Entities operating on the financial market for years and seeking modern solutions, pondering the exchange of front-end and its parts
Emerging entities facing the choice of software
Frontend cooperates with Backends that enables integration via Rest API.
The access to six key software components is possible
First component of Frontend
The key component of Frontend Exeria is its technology, thanks to which the whole system's skeleton is created. This means its financial station, based on managing windows and content. Thanks to the window environment, an ultimate user will decide what the screen looks like, its division into windows and what will be in them.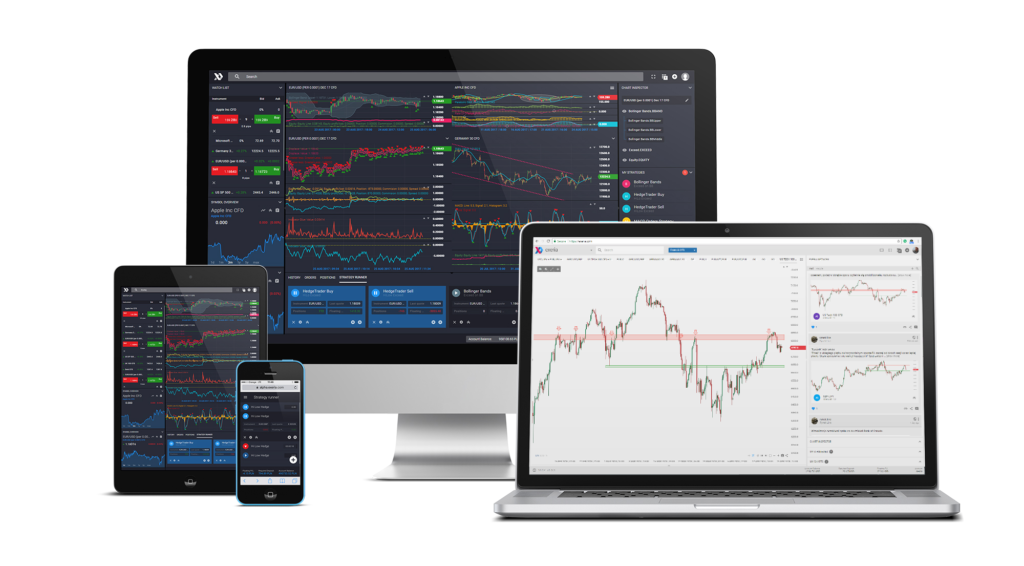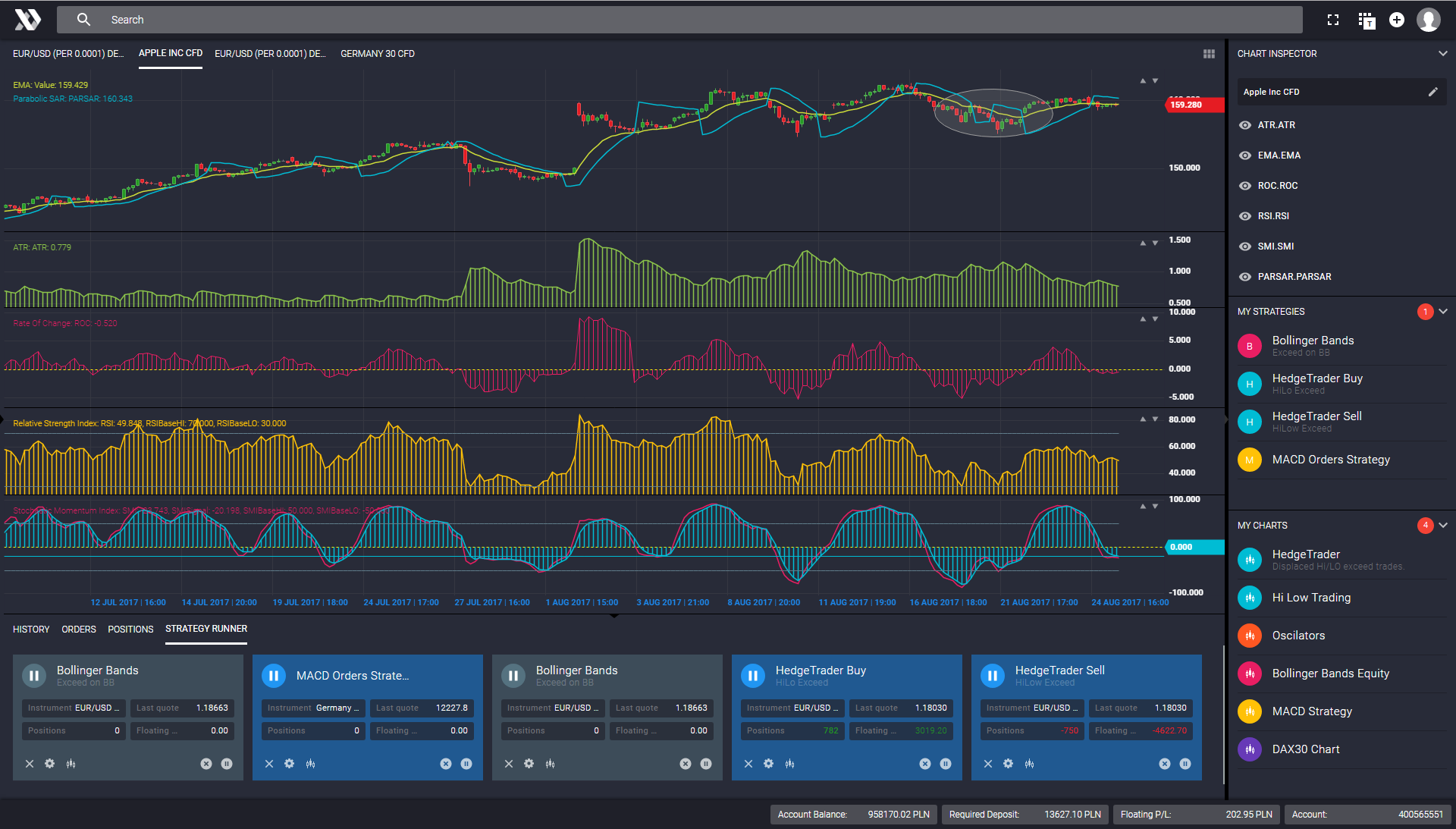 The Exeria technology allows users to build algorithms without the need for programming and uses ready-made robots.
Technology of robots creating
Second component of Frontend
This is the main element of the area of automatic investment technology, also known as the "robot factory". This enables mass sharing of investment robots both in the form of ready-made trading machines intended for "home use" called by us "Robots" and as Professional Robots ("Robots Pro") which advanced investors can assemble themselves from ready-made elements (so called algorithms and strategies). The Exeria bots are digital machines operating on the basis of a learned, proven, programmed and tested set of instructions, and an automated algorithm. They place orders using their knowledge of the functioning of markets as well as principles of investing science, economics, statistics and mathematics. These robots have been awarded by Silicon Valley experts multiple times. The robots place automatic orders on an individual investor's account. This extracts the problem of inactive accounts. Thanks to robots, Investor Strategies eventually transform into long-term strategies (robots are investing in a 2-3 years perspective). Therefore, the average period of activity of the accounts extends and their profitability increases. The average number of transactions on the account also increases, which may also have a positive effect on the income of the broker, bank or operator.
Social trading technology and copiers
Third component of Frontend
Here is another module enabling the automation of transactions. Thanks to this feature, you can successfully introduce the "Robo-Advisory" or "Copy trading" services. This component allows you to copy orders on connected accounts. Users have the ability to track the orders of friends or experts. They create portfolios from which transactions and orders can be copied. This allows you to follow the movements of experts or friends and also gives users greater security and efficiency due to access to the proven and profitable strategies of experienced investors.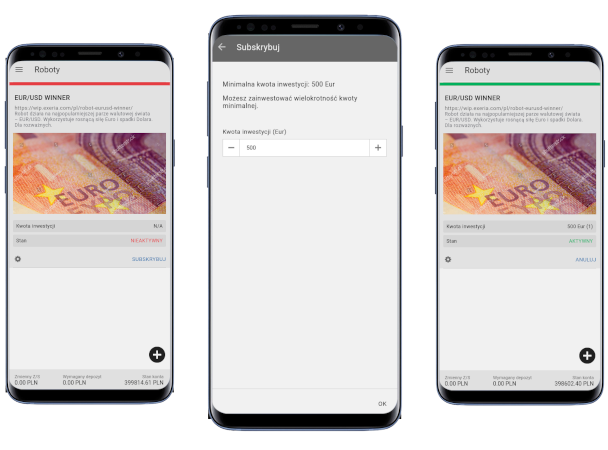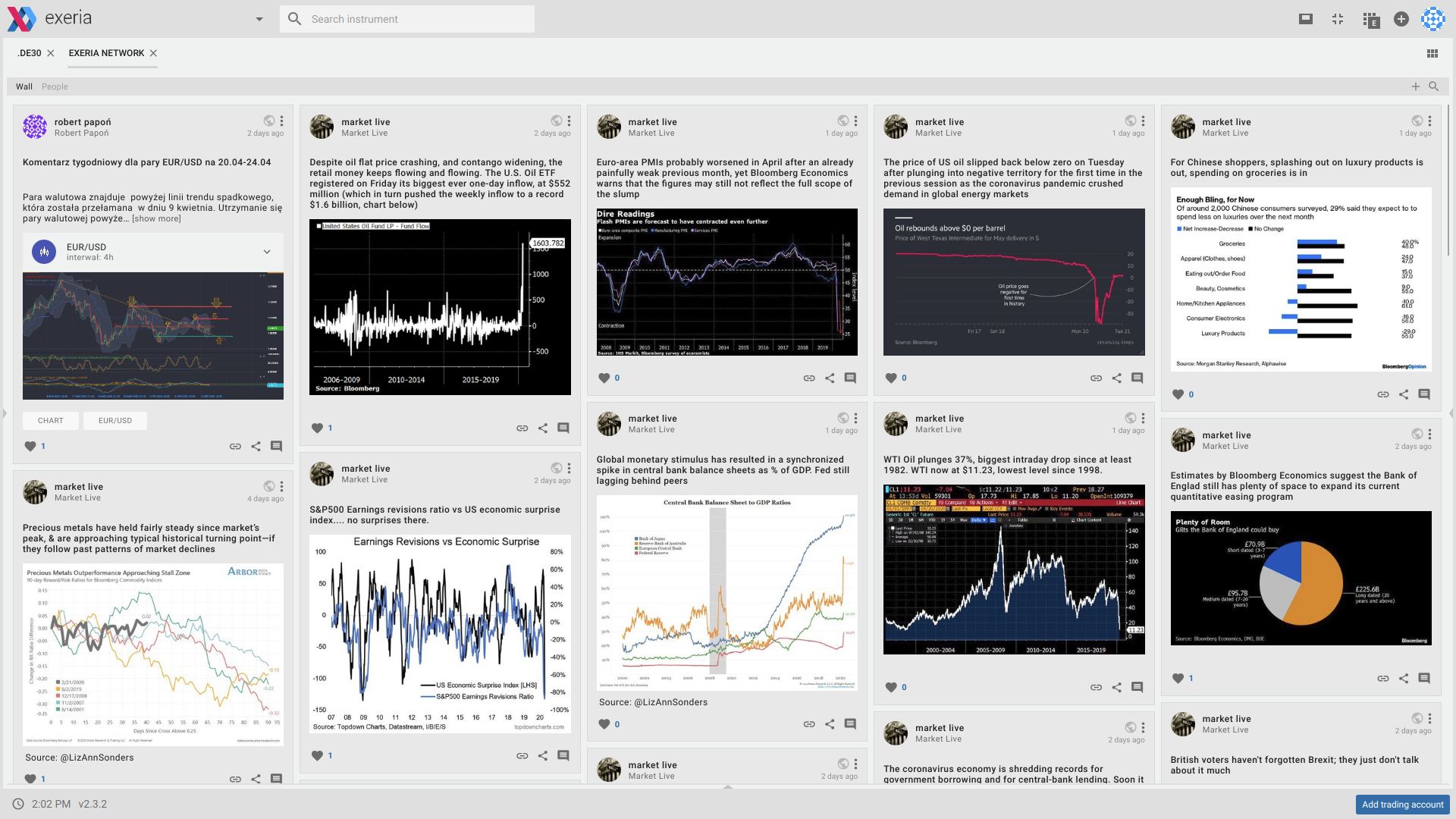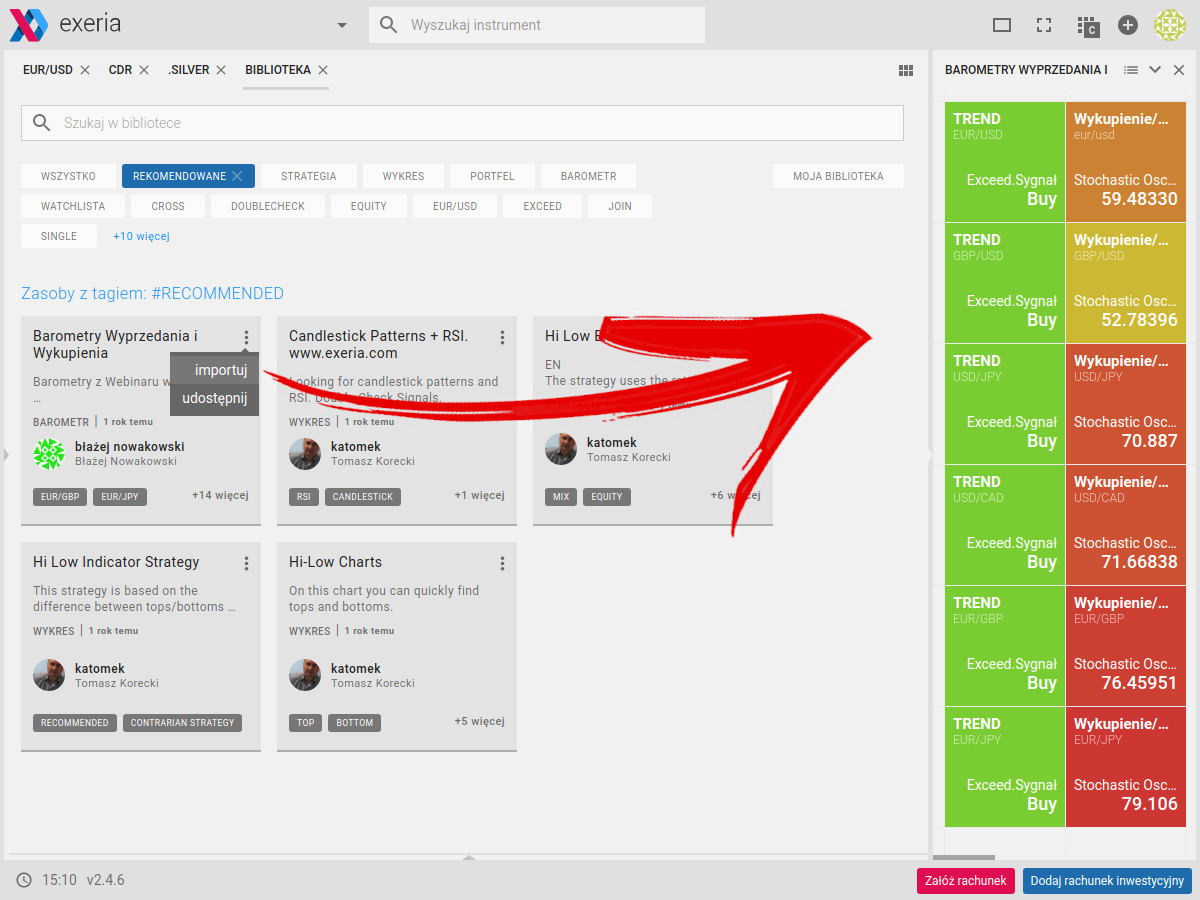 Social network technology and library
Fourth component of Frontend
Another element is the social networking software used, for example, in the Exeria Network. It allows community members to follow friends or experts, share ideas, and use market information and library resources. In the library, users have access to ready-made solutions prepared by the website owner or other users, such as e.g. ready-made strategies, chart templates, instrument baskets, and barometers. Users can share charts, robots and order information on the social network. This allows experts to send recommendations to customers, and allows users to more easily follow recommendations and enjoy technology that enables co-operating. Users can create public and private posts, expand groups of friends and feel part of the community.
Fifth component of Frontend
The charting technology enables the configuration and presentation of professional charts and charts with orders. The Exeria technology significantly expands, diversifies and raises the level of data presentation thanks to the access to the chart library. Having a full library of codes at your disposal, you can create any chart. Likewise you can offer users your own chart templates, ready-made investment strategies or indicators. Thanks to thoughtful technologies such as Smart Menu and Smart Panel, users can freely use the charts on any computer, tablet and Smartphone.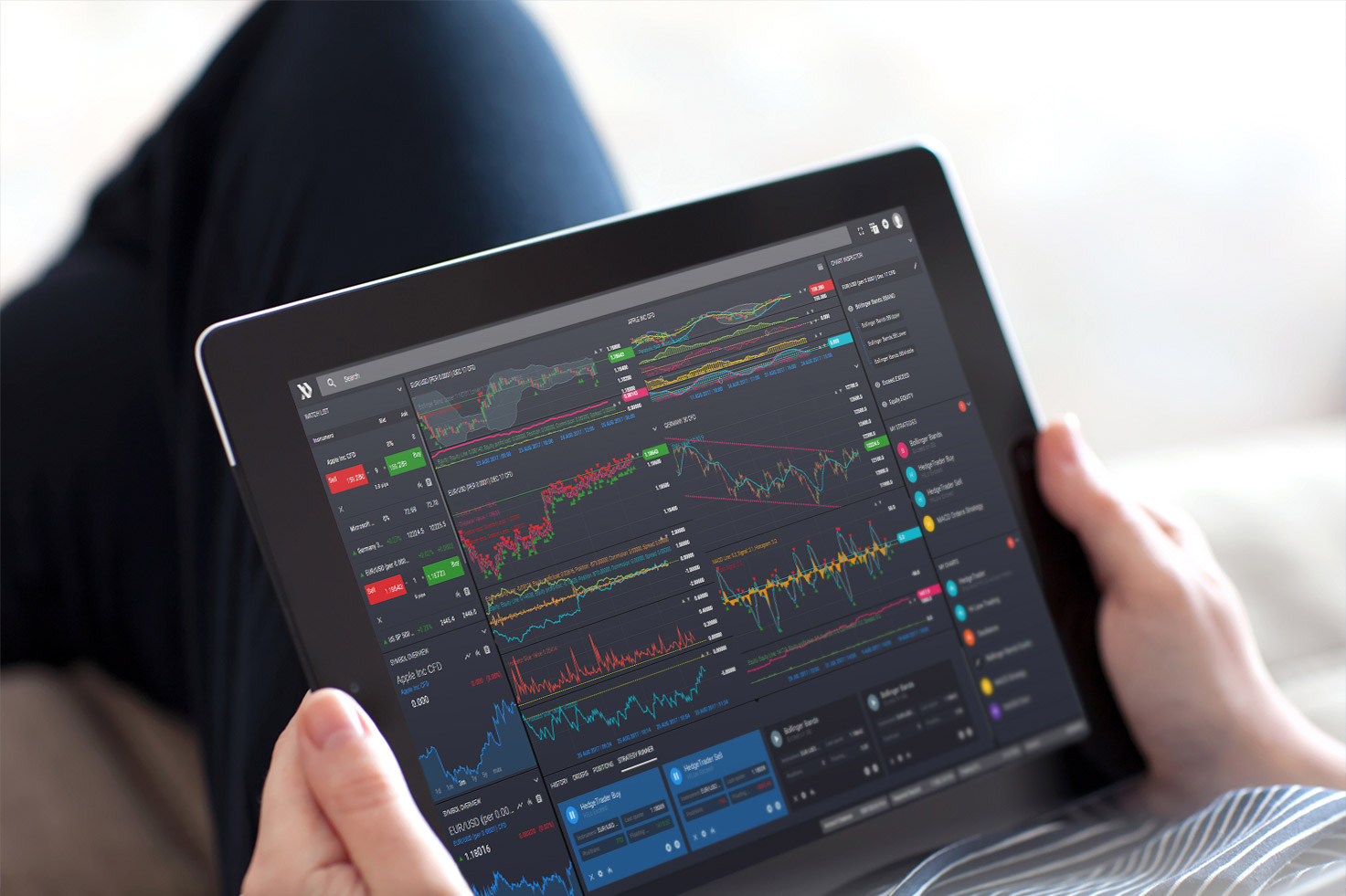 Wykresy Exerii działają świetnie na każdym komputerze, tablecie i smartfonie.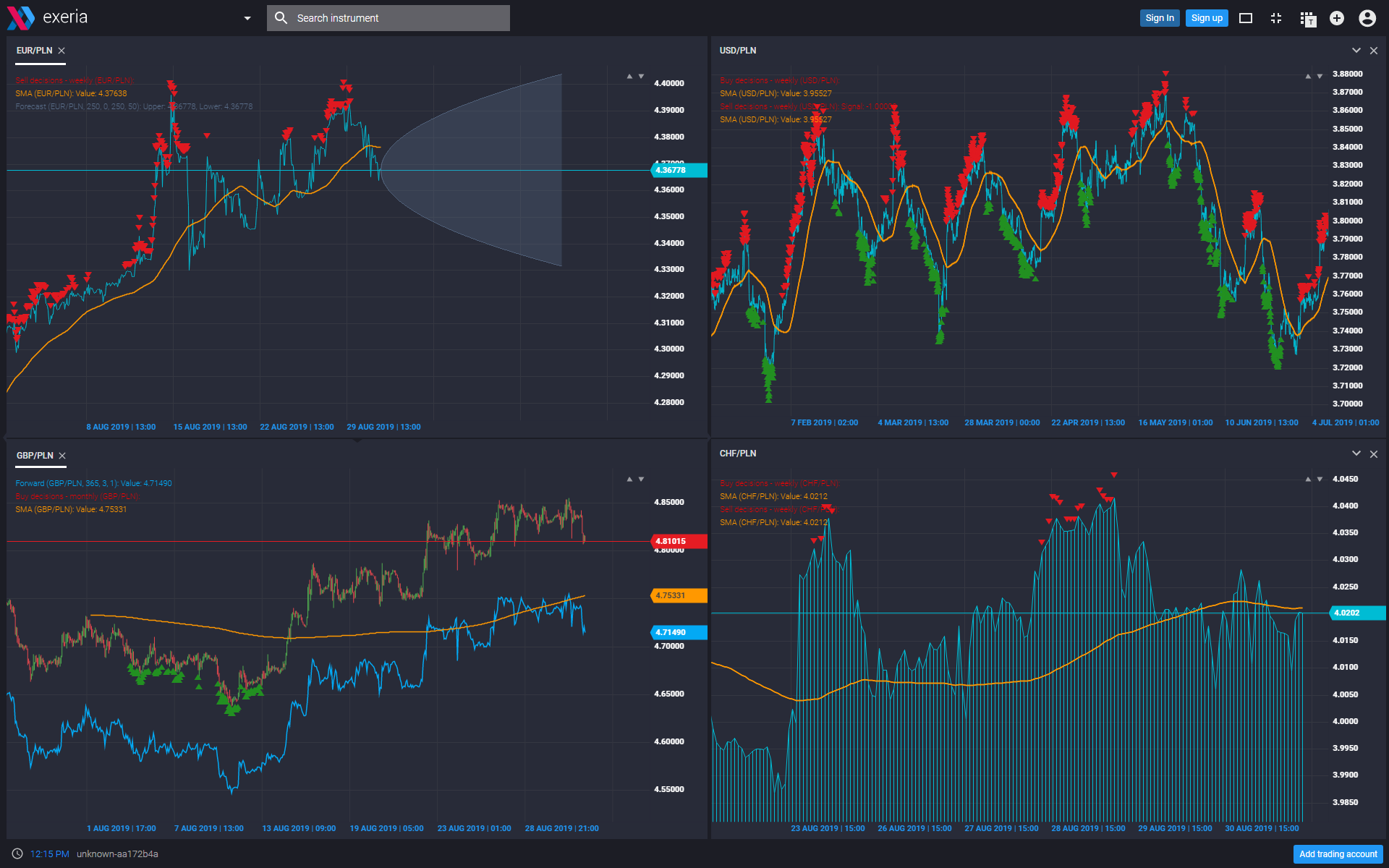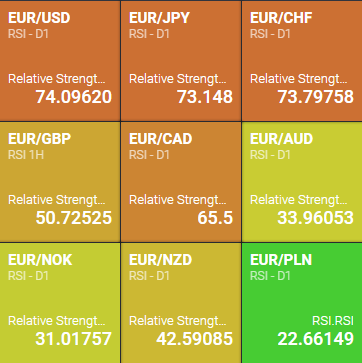 Watch lists and Barometers
Fifth component of Frontend
Watch List technology allows you to create lists with records and switch between them. Barometers allow for the display of indicators in a friendly graphic formula resembling the operation of a speedometer indicator or a tachometer in a car. Depending on the device (telephone or computer), the Watch list adjusts its appearance to the size and type of the screen. Ready-made Watch lists can be exported or imported from the Library or Exeria Network. The technology makes using ready-made lists possible as well as sharing lists with other users.
1. Windowing environment
Your users will receive technology thanks to which they will be able to use the station, with full window and content management. The user himself decides about the appearance of the screen, its division and what filling of the windows they want. Thus, you can use the latest technology, thanks to which you will get even more possibilities than in the case of applications that once had to be installed on a computer's hard drive.
2. Automatic trades
You have the opportunity to launch innovative services and stay ahead of the competition thanks to technology that only few have access to. The terms of the Robo-Advisory, social trading, automation, automated strategies, robots, and trading algorithms are causing a lot of positive traffic in the information space at the moment. As a consequence of technological products, which we call automatic financial technologies, developed a few years ago, now they are successfully implemented and commercialised.
3. Complete system
You get access to a complete, proven and stable IT system that allows you to move into the world of technology in the third decade of the 21st century. Instead of creating your own front end for at least 2 years with a few million dollars or using available, however quite archaic, mass solutions, you get the opportunity to use the latest technology on a partnership basis.
Exeria's Front end is designed for companies and financial institutions, banks, brokerage houses, the large information services of Forex, Bitcoin, Crypto brokers, as well as for companies planning to expand on the financial markets.