Keep from 5 to 10% of the profit in the company
Do you feel that your margins are uncertain and dependent on currency fluctuations? Do you think that the costs of currency conversion are high and risk management is difficult and complicated?
Imagine that you have discovered a plan to optimise your currency transactions, so you are able to keep your costs in check and you develop safely. You get more profits; you also have a greater impact on results and greater savings because you bet on proven methods, expertise and independence. Now you know that every percentage of turnovers is important to you, because by using a unique currency conversion model, you keep from 5 to 10% of profit in the company.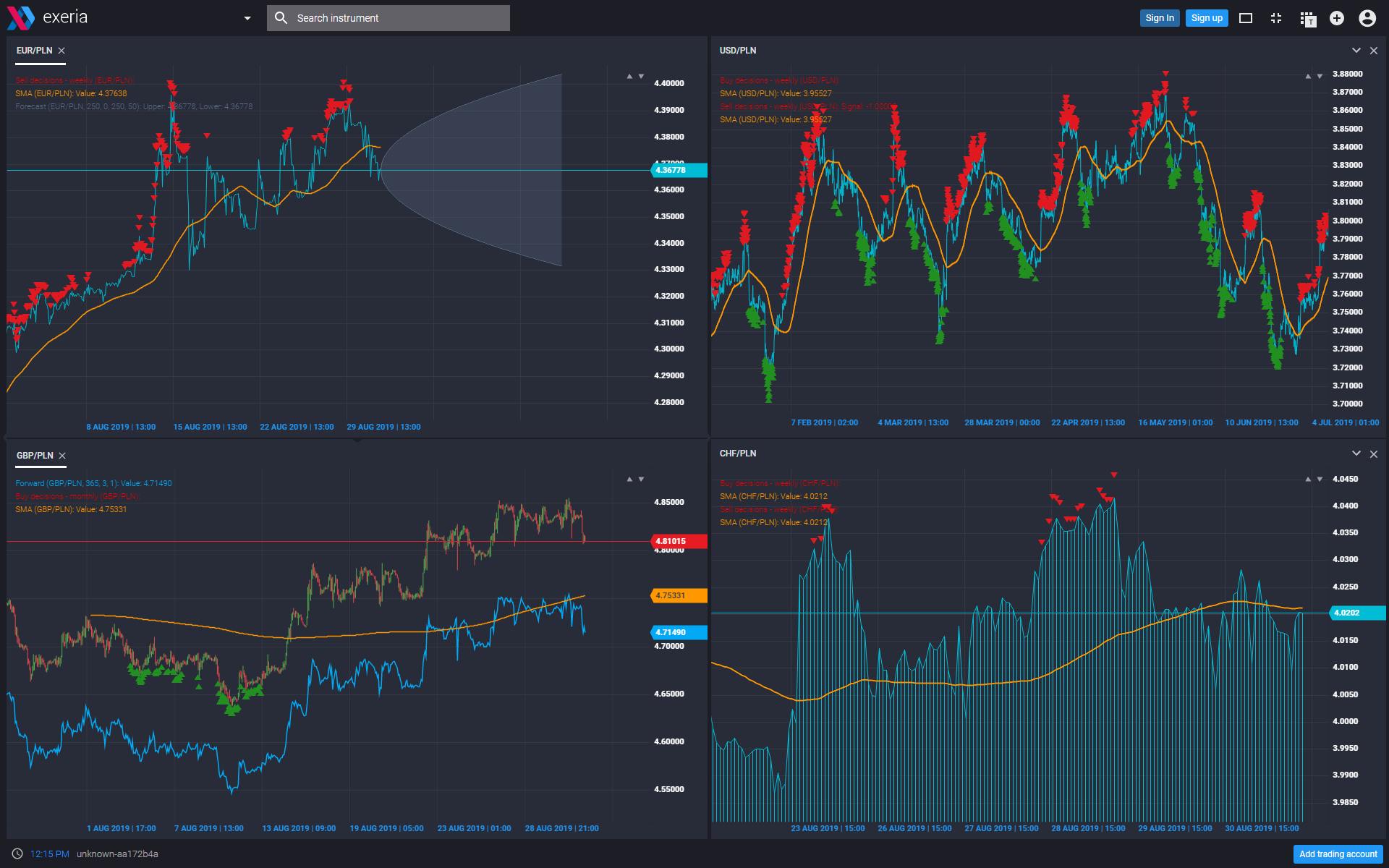 FX Predictor is a unique computing machine with a graphic interface. The program uses Value at Risk methods, exchange rate volatility analysis and statistical and forecasting methods to buy or sell a currency at the right moments and thus save significant amounts of money. FX Predictor allows you to consciously determine the probability and range of currency price changes. In this way, it secures the development of the enterprise, and enables access to market currency prices and tools needed to manage the exchange rate risk in the enterprise.
The FX predictor is used in business. It is addressed to entrepreneurs for whom a permanent element of business activity is currency exchange and the accompanying costs of currency conversion, exchange rate differences (spreads), costs of banking services and the costs of possible insurance of exchange rate differences.
Manufacturing and trading companies, the essence of which is import and / or export
Service companies, including currency exchange offices
Companies with an annual turnover of EUR 500,000
FX predictor signals when it is the best moment to buy and when to sell a currency, and shows what currency prices you can expect in the future. It uses the Value at Risk. These are methods that have been used for several decades in financial institutions. It is based on scientific knowledge in the field of statistics and finance. This knowledge is programmed in indicators that show when it is the best moment for buying or selling a currency. The operation of the FX predictor is simple and possible on various devices. You can see the purchase or sale indications as green and red arrows in the chart. To use the FX predictor, all you need to do is to log in on the website by phone or computer and check whether it is worth selling or buying the currency. It can be operated by any person in the company; it does not have to be an expert or financier. Thereby, you can save on the costs of the remuneration of specialists or entrust specialists with other, new and important tasks for the company. FX predictor gives certainty that the actions taken are in line with the best practices; and, what is more, it is an honest, timely, diligent and effective system.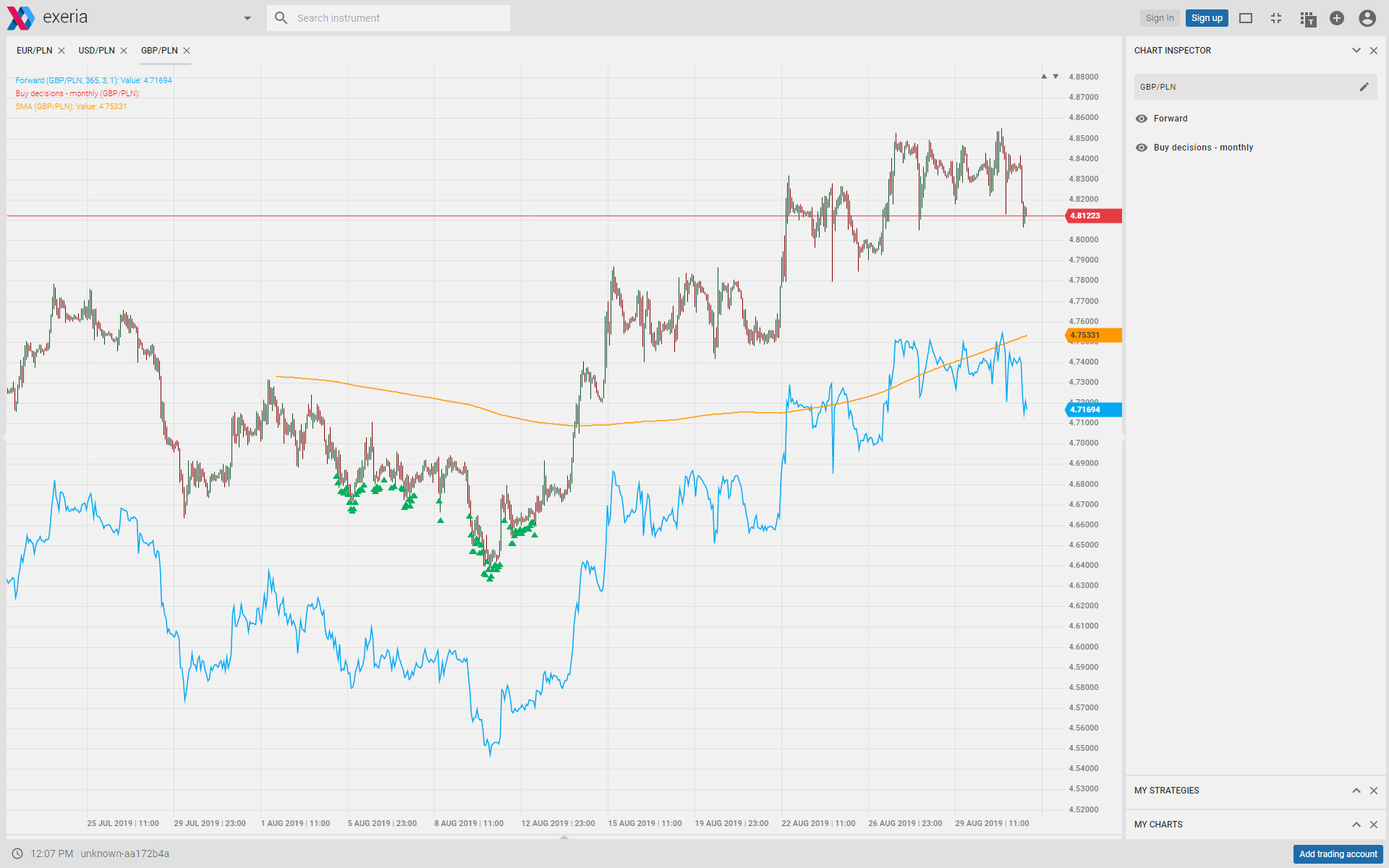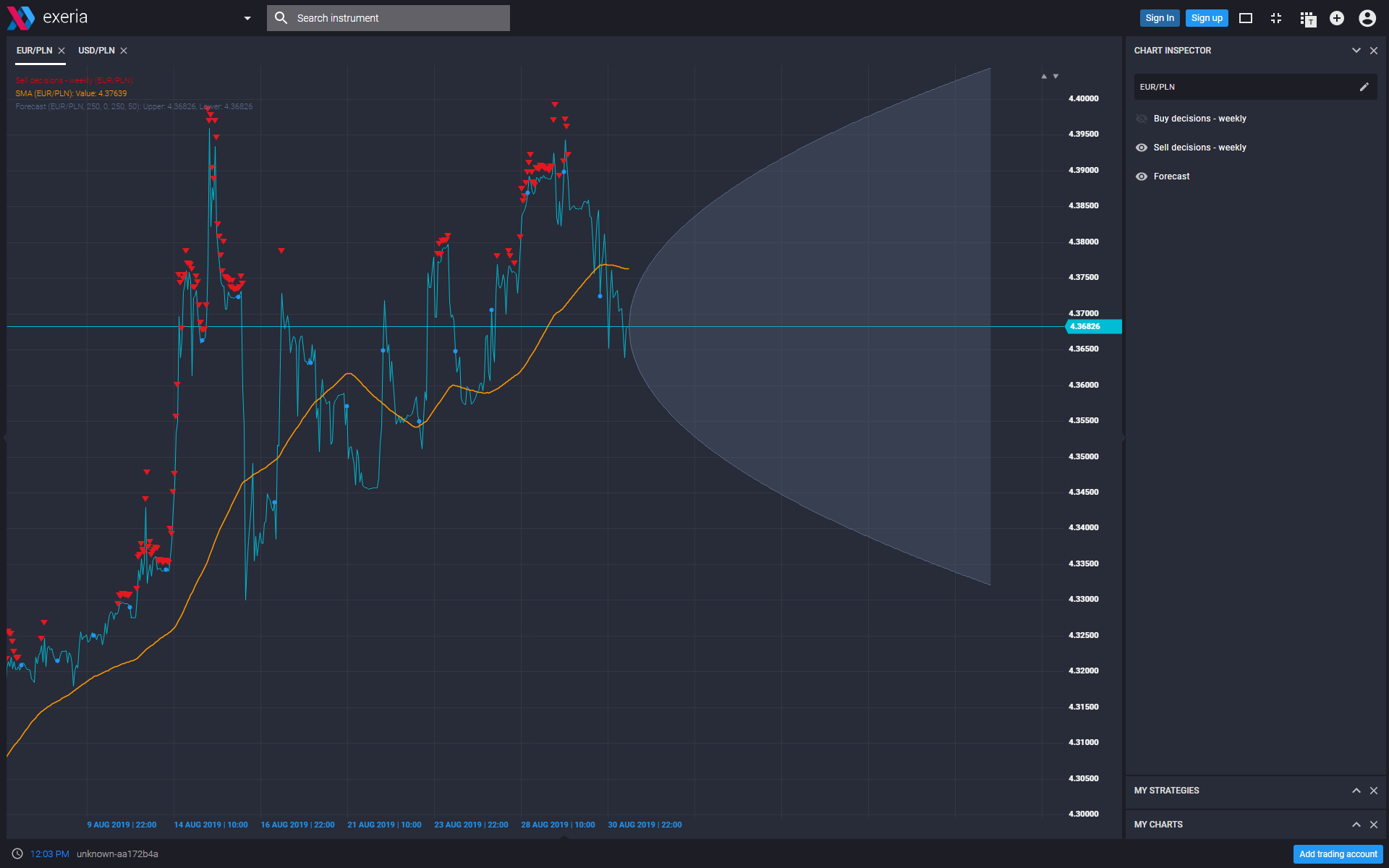 FX predictor moves in a statistical tunnel. Its efficiency is calculated in relation to the average price. Carrying out transactions in accordance with the readings of the FX Predictor saves about 1% of the annual turnover on currency transactions. In the case of a turnover of 1 million EUR, the FX predictor saves 40,000 PLN per year. These saving statistics have been based and validated over the past five years. This means that using the FX predictor brings measurable profits and large savings, as well as increases margins by an average of 5-10%. In every company, this situation implies more money and faster development.
THE EFFICIENCY OF THE FX PREDICTOR IS GUARANTEED – IN CASE IT DOESN'T BRING EFFECTS, THEN NO FEE WILL BE CHARGED FOR ITS USE.
TOP 6 most unique advantages of FX Predictor
1. It works 24 hours a day.
FX Predictor is a tool that works 24 hours a day, is always available and you can check its indications at any time. It is always at hand. You can use FX Predictor's indications whenever you need to. You can also save time instead of making calculations by yourself.
2. It keeps track of prices.
You get a currency risk management tool. You exchange currencies at better prices, and can better forecast and budget the currency levels in the company as well as better negotiate prices with banks. You get support in the form of an automatic assistant with which you can save significant amounts. You use proven risk management methods. You feel that you are making wise and reasonable decisions based on the knowledge and experience of experts.
3. It predicts the future.
FX Predictor forecasts prices with a certain probability using statistics and the Value at Risk method. This feature of the FX Predictor can be useful for budgeting or communicating future prices to counterparties if, for example, you participate in tenders. It will also help in negotiating with the bank currency prices for type FORWARD hedging transactions. FX Predictor will show you the area of prices that you can expect for your currency in the future, which means that you can adopt specific record levels in your assumptions and plans with certain confidence. Thereby, you will be happy to have a solid tool that according to scientific knowledge intelligently helps you in planning your currency policy and business development.
4. It works based on knowledge.
FX Predictor is a machine that uses scientific technical knowledge known for several decades used mainly by large financial institutions. It was prepared by a team led by Tomasz Korecki: a mathematician and broker associated with the financial industry for 25 years. Tomasz Korecki is a specialist practitioner and lecturer in exchange rate risk management at renowned universities and MBA courses. The team includes the best award-winning experts in the field of mathematics, financiers, financiers of the financial market and IT specialists. Thanks to this technology, it is you who saves now. Using the knowledge and experience programmed in the FX Predictor you can get the satisfying feeling that quality and savings thanks to knowledge and entrepreneurship usually go hand in hand.
5. It works for different currencies
Regardless of which country you have a partner in, you can use the currency meter for each currency and run it on various currency pairs – min. EUR, USD, CHF, GBP. Hence, you can use the FX Predictor even when you have dispersed sales and billings in many different currencies.
6. Checks the currency market cycles
You have access to current and historical quotes of over a hundred currency pairs and other financial instruments. You get access to current and historical market records. This gives you access to global market quotations, allows you to check whether you are buying or selling at market prices. You are sure that the bank or exchange office where you exchange currency is honest and reliable. Thanks to the access to current market prices, you can see the same prices that a bank dealer has when negotiating the exchange rate. Thereby, your negotiating position is much better. You can now see how much the bank is earning on you and it is easier for you to negotiate exchange rates, such as future rates (forward) – just watch the prices on the record list or the FX Predictor chart.
Do you want to learn more?